If you are the person who really cares about good shave and getting best shave results then you must buy a shaving brush. Shaving with that old techniques of using single shaving brush was really bothering. So here's a list for you to help you select among any of these best shaving brush kits.
Old Bond Taylor
Old bond that is been known as Taylor of old bond is basically an England based brand that was formed in the year 1854. They've got an amazing reputation in England in their business. Many of the people have tried this shaving brush kit and they really liked and appraised it. Sometimes it seems to be a bit costly especially for the people who have never used shaving kits before. But once you have it, you will love using it. Taylor is the best recommended shaving brush kit from the time this brand was formed.
VAN DER
VAN DER has got the best quality products at really affordable prices. Basically they deal in brushes and soap and these two are the most famous of its all product line. This shaving brush kit is basically designed for the new users and for the people who have never done wet shaving before. This set includes an amazingly soft and comfortable shaving brush. A stand that will help you to let your brush dry when its wet, a mug of stone that have the capabilities of heat retention and an anti allergy soap. So if you are new to have wet shaving then this product is the best recommended for you.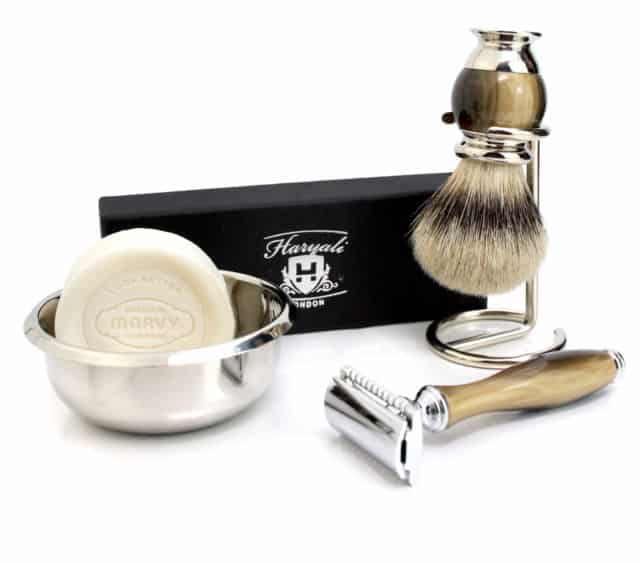 OMEGA 46065
OMEGA offers its customers with a wide collection of shaving brushes that are so comfortable to use. This is basically an Italian company's product that was formed in 1946 and has the full range of shaving brushes. This kit involves one boar shaving brush, soap and a stand for your shaving brush that helps it in staying dry. This kit is basically designed for the starters and for the people who are new to shaving. It is not too much costly and not that much cheap. Yet this kit is considered to be one of the best shaving brush kits in a best price. 
Art of Shaving
Art of Shaving is the company that is specialized in making shaving products for customers use and ease. They are known for their high prices and costly products. Yet in the case of its shaving brush kit, Art of shaving is considered to be the most quality oriented product in a reasonable price when compared to the quality. This kit involves pre shaving oil, after shaving balm, shaving brush and a shaving cream. So this kit is really a luxury shaving kit that you would love to have.
So these are some of the best shaving kits that could help you in providing easy and comfortable shaves with affordable prices and quality stuff. Moreover this, these kits are the best liked, appraised and recommended all over the globe.